Dad Road Trip – Explore America
Hey Dad,
I love this country of ours…and although I haven't even been to a  fraction of the places to visit in the USA, I've traveled to a bunch of great locations. Theses are some of the places we talked about on a recent Familyman Show. The purpose of the show and the map is to whet your appetite for some good old family travel. So pack your bags and plana  Dad Road Trip!!!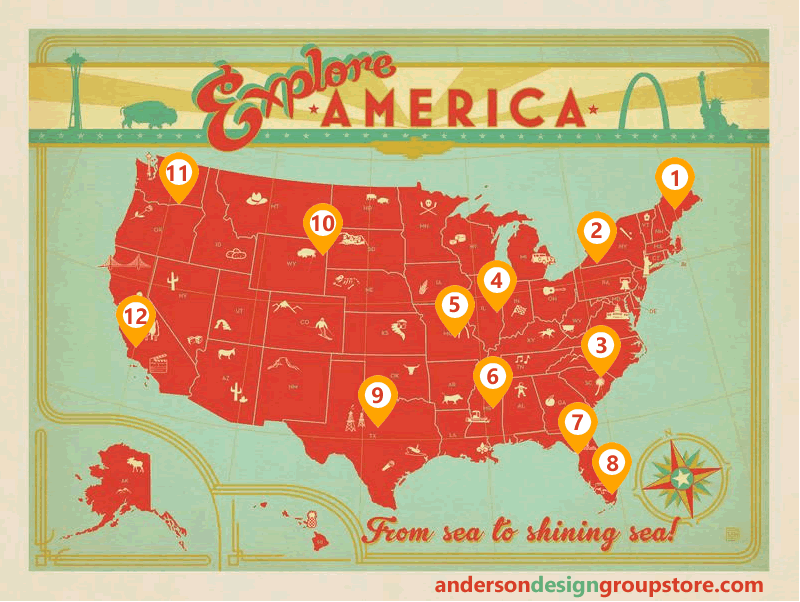 You may purchase the map poster art here.
1 – Portland Head Light (Maine), Kenny Bunk Port (Maine), New York City, Boston, Philadelphia, Washington D.C.
2 – Niagara Falls, Great Lakes, Mackinak
3 – History Alley…Gettysburg, Antietam, Washington's Crossing, Fort Sumter (Charleston), Kitty Hawk
4 – Chicago, Route 66, Springfield
5 – Saint Louis Arch, City Place, Hannibal (MO)
6 – Duck Dynasty (West Monroe, LA), New Orleans, Biloxi
7 – The gulf coast (all of it), Sanibel, Tamp, Clear Water Marine
8 – Key West, Alligator Alley, Disney World, Springs, Bok Tower, Legoland…Sunshine State
9 – White Sands, Carlsbad Caverns, Cadillac ranch, Alamo, Presidential museums
10 – Mount Rushmore, Badlands, Corn Palace
11 –  Space Needle, Mount Rainier, Mount Hood, Mount St. Helen's
12 –  LA, Hollywood, The Golden Gate Bridge, Redwoods…