Hey Dad,
Just watched Home Alone with my family. While I was shocked by the number of curse words in the movie (I did my best to mute them) and one lingering camera shot on a "girly" magazine (I tried to 'still' the scene before it got there)…my kids still like the movie and it is full of Christmassy ambiance.
Just because the house was a few hours from where I live (671 Lincoln Ave, Winnetka, IL 60093) and I visited it…I couldn't resist a little Home Alone trivia: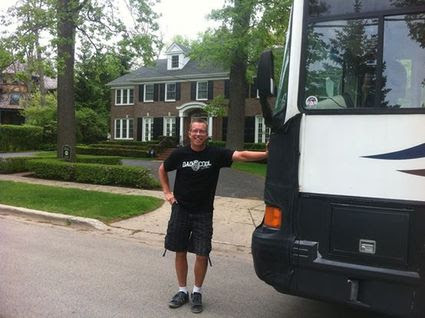 Kevin's bedwetting cousin, Fuller, is played by Macaulay Culkin's younger brother, Kieran.
Macaulay Culkin (Kevin) drew the map that his character uses to set up the traps.
The ornaments on which Marv steps were actually candy.
Daniel Stern (Marv) wore rubber feet for his barefoot scenes.
There is a legend that Elvis Presley (who died in 1977) makes a cameo in this movie. Many of those who believe that Elvis is still alive maintain that the heavily bearded man standing in the background of the scene where Mrs. McCallister is shouting at the desk clerk (just before she meets John Candy) is Elvis. ***I'm going to have to look for him next time.
The "Oh-Kay Plumbing" van, that Harry and Marv drive, has a slogan that says, "Your flood control experts." This is funny because they call themselves the "Wet Bandits", and leave the water running after robbing houses.
At the end of the movie where it snows outside Kevin's house, the snow was actually mashed potato flakes.
The picture Kevin finds of Buzz's girlfriend was a picture of a boy made up to look like a girl, because Director Chris Columbus thought it would be too cruel to make fun of a girl like that. The boy that was used in the photo was the Art Director's son.
The airport used was indeed Chicago's Ohare airport…and so was the France airport.
In the scene when Kevin walks past the driveway just as Harry and Marv are driving down it and stop just in time to avoid hitting him, was achieved by having Macaulay Culkin walk backwards as the van was driven in reverse away from him. The film was then shown backwards.
*PS – You might check out VidAngel to see if you might view Home Alone thru that service.