The Great RV Makeover – The Race is ON!!
Auggggg!!!! We only have three weeks before I have to have the Familyman Mobile road worthy. That doesn't seem like much time when I just got the seats bolted in yesterday. It sure doesn't help that it's been so cold and snowy.
I finally got that little drawer and grate under the bunk beds finished…and they turned out OK. It's amazing how much time such a "nothing" job can take.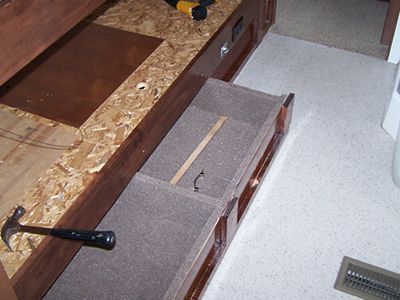 So far I'm very pleased…but I wouldn't mind another month or so and some spring weather. I still need to change all the fluids, work on a few mechanical issues, make sure all the systems work (the heat works so that's good), get the monster started and maybe checked out by someone who knows something about diesel pushers.
Not to mention that we need to clean it out and stock it for 3 months on the road. So let me finish the way I started.
Auggggggg!!!!!!