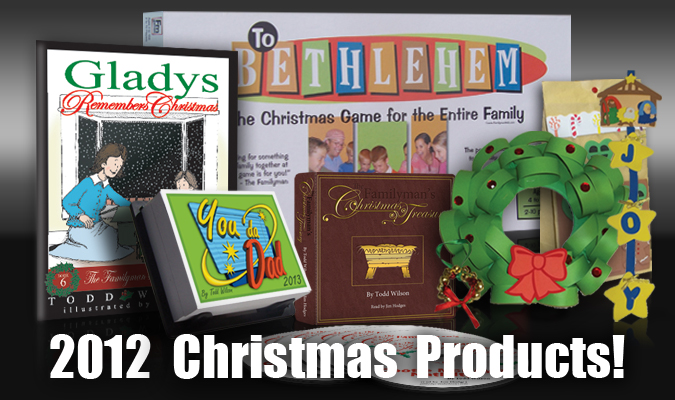 Hey Dad,
It may not FEEL like Christmas (even though it sure is cold enough where I live)…but my kids have started reminding me daily that it's right around the corner!!! Whether we like it or not, it's time to start planning for the greatest season of all.
In our house, the Christmas countdown starts the weekend after Thanksgiving when we harvest our family Christmas tree. Then, one night per week until Christmas, I gather my family together, light a candle, read a Bible passage and an inspiring 
Christmas read aloud
, enjoy 
a simple craft
, play 
To Bethlehem
, and sip sparkling grape juice while we munch on a special Christmas snack. We call these 
family advent nights and my kids love them
! (
Click here to learn more about them
).
To help you have your own Christmas family nights, we've done the hard work for you and prepackaged 
four simple crafts
ready for your kids to assemble each week from Thanksgiving to Christmas. They're available NOW for just $8.00! 
Order one kit per child
, and we'll get them shipped right out to you.
Hot off the press
 is our sixth and 
NEWEST
 Christmas read a-loud,
 Gladys Remembers Christmas.
 This enchanting Christmas story will point your family to the real message of Christmas as well as give you opportunities for snuggling fun.
ALL SI
X BOOKS in the Familyman's Christmas Treasury
 can be purchasesd for the low, low price (I just love saying that) of 
$48
. That's like getting the newest book for FREE…plus a little more. This set also makes a great family gift for someone on your list!
This year, we teamed up with Master Storyteller 
Jim Hodges
 and are offering the entire Familyman's 
Christmas treasury on 6 audio CDs
. Your children will love listening to the Christmas stories over and over during the month of December. I can't think of a better way to reinforce the real meaning of Christmas in your celebration.
Don't miss out on perhaps our most popular Christmas product of all, 
To Bethlehem, the Christmas Game for the Entire Family.
 It's guaranteed to give you hours of meaningful family fun! And, it makes a great gift to give others too! 
Order yours today.
And last, but certainly not least, our best selling 
2013
You 'da Dad Page-a-Day Calendar
 is now available! Encourage all the dads
 in your office, men's group, or family with the 
this awesome gift (buy 12 and get free shipping).
 It's a lot better than a fruit cake and will help them be better husbands and dads…plus they'll love all the quotes, tips, and wacky info that only a dad could like. We've even sweetened the pot by offering a 
super great deal when you buy 20 or more
.
So what are you waiting for? Hurry…operators are standing by (not really, but it sounds good).
Share!!