Hey Travelers,
We just got back from Houston. Although hot as all get out (but cool by Phoenix standards), we had a great time with all those Texas dads and moms. We even passed Lufkin, TX – Home of the
Chick-O-Stick
(make a mental note to stop next time).The RV ran great…until…we were about 200 miles from home. The kids were so excited to get home to hook up with their cousins and grandparents for a week of lake fun and were pushing me to make good time.
We were trucking along when I glanced down at my temperature gauge and was surprised to see it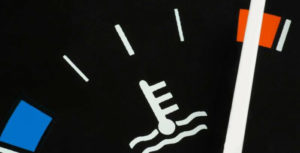 higher than it should have been. It kept climbing…until I said, "We're pulling over now."
I swung off an exit and pulled into a gas station, shut the beast down, jumped out, and headed for the back. That's when I saw the puddle under the RV.
Long story short: three minutes later my amazing wife found a garage two minutes down the road. A few minutes after that, the diagnosis was that we had blown a hydraulic hose that fed the radiator fan (and the power steering). They couldn't get it fixed that night so my kids were given the crushing blow that we'd have to spend the night in the garage lot…and miss another day with cousins.
But God was good. Instead of giving us lemons…He gave us lemonade, and it became a great memory. We played in the gravel parking lot surrounded by junkers, got dinner at the truck stop/gas station across the street, went back for dessert, and watched a fun video in the cool of the night. Honestly, it will be remembered a lot longer than the few nights prior, which we spent in a posh hotel.
That's the thing, Mom and Dad…maybe it's not so much about making lemonade from the lemons life throws our way, as it is about not mistaking the lemonade God gives us…for lemons.
We sometimes think the best plan is our plan…our field trips…our adventures. We plan a great trip to a great destination…save our money…map it out…and then God redirects our path. The place is closed for renovation, it rains cats and dogs, or the RV blows a hose. The temptation is to let the "lemons" bother us, never realizing God sent us "lemonade" instead.
So, go ahead and plan that trip, but be on the look out for some God-served lemonade. I'm betting there's some on the menu for your next family adventure.
Until next time…swing wide and keep your eye on your tail,