Hey Traveler,
I just got back from speaking at a church in Knoxville, TN. They were a great bunch, and I love their southern twang (can you believe they thought I had an accent?). Somewhere in the midst of the talk I mentioned the fact that they lived not far from the world's longest fire engine.
From the blank stares I knew they had no idea what I was talking about. "You know," I said "…it's right along I-75…YOU KNOW??!!!" They didn't know. In fact not one person in the whole church auditorium knew of that roadside attraction. I was flabbergasted. I probably had driven by it twenty times and EVERY single time we pass it I point it out and say, "There's the world's longest fire engine!"
Honestly, I love the world's biggest, longest, and oldest ANYTHING. And we've seen our share of big things. Along with the world's longest fire engine (in Pioneer, TN), we've visited the world's biggest ketchup bottle (Collinsville, IL), the biggest blue concrete whale (Catoosa, OK), The biggest Jolly Green Giant (Blue Earth, MN), the biggest pistachio (Alamogordo, NM), the biggest peach (somewhere in Georgia) the world's biggest rocking chair, and biggest wind chimes (all in Casey, IL)
Actually Casey, IL holds the title of world's largest collection of world's largest things. All in one stop you can see the world's largest rocking chair, wind chimes, knitting needle, golf tee, wooden token, wooden shoes, pitch fork…and mailbox! That a lot of world's largest bang for your buck.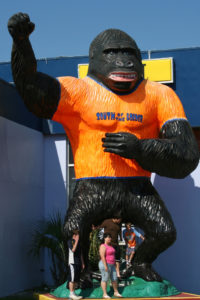 It's not so much that I just enjoy seeing those world record holders as much as I enjoy seeing them WITH my family. We take pictures and they complain about having to get out of the RV. But I I know one day when they're sitting around their dinner tables, they'll tell their children, "One time I saw the world's biggest gorilla in a orange sweater (South of the Boarder, SC) with my dad. He was so funny about that kind of stuff." They'll get a warm feeling inside and remember that day, me, and how much they were loved.
But as some RVer once said, "The world's largest paint can won't get visited on its own." (Shippensburg, PA). You got to make it happen.
Because I'm having so much fun…here's an amazing list of world's largest things. I'm guessing there's one near you.
Until next time swing wide and keep your eye on your tail,