Picking the Right RV (Part 1)
I'm in the midst of my second RV renovation on my present RV. The first one was eight years ago when I brought it home after buying sight unseen on eBay (1000 miles away). Man that was a red letter day. I was so pumped and excited as I pulled into the driveway behind the wheel of our new big rig with a big air horn.
I gave it a good blast and all the kids and my wife came running to meet me. I was like a school kid showing off his new bike with big sissy bar. My wife saw the 15 year old interior and began to cry. "What?" I said, baffled by her lack of over-joyedness.
"It's just dark, ugly, and filthy," she said.
Yeah, but it drives great…and it's got a loud horn," I countered.
Well, that was the start of the first reno. We gutted the thing, changing the wall colors floor covering, sleeping configuration, and recovering all the furniture. Man, when it was done it looked factory finished.
Now, eight years later the seats are thread bare and have stuffing poking through, the floor is darkened, and it's in need of a once over. So that's where I am now. The seats have been removed and taken to a reupholster and boxes of vinyl flooring sit out as samples. It's going to be a lot of work…but I'm hopeful.
That's the thing about Rving, you don't have to buy new to get something good,. In fcat there are so many price points out there from brand new units that cost 100's of thousands of dollars to some old 1975 Winnebago that cost a few thousand.
Here's the deal: new doesn't equal problem free. And new RVs loose their value quicker than a 1990's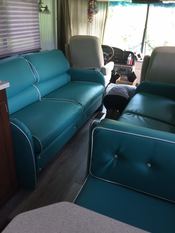 Beanie Baby. That's why we've bought older units. The price is right and if we decide to sell, we won't take a huge hit.
Plus its just plain fun to fix them up…to add our own special touches. And talk about a homeschooling opportunity? My son Abe (15) removed all the seats and he'll help me rebuild, paint, and reinstall.
The best lesson will be that he won't be afraid to do it himself one day for his family. He may not have a lot of money to buy a new rig, but he will have the confidence to tackle any RV project…because he learned it form his dad.
Well, next time we'll talk about the different RV options.
Until then…swing wide and keep your eye on your tail,


Here's a video of our RV about 8 years back…