The Familyman's Pick for Best TV Dads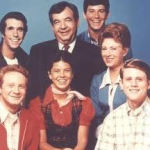 Hey Dad,
Now both you and I know that TV dads aren't real dads…but you gotta admit Michael Landon is a wonderful TV dad. The Wilson family has been watching all those Little House on the Prairie reruns on these cold winter nights here in Northern, IN.
Got me to thinking of other TV dads from my past and so I decided to make a list of the Top TV dads. Of course my memory isn't what it used to be…or never was, so I'll need your help. Here are the guidelines: the dad can't just be a great actor, but a good father figure (not perfect).
Here we go.
The Familyman's Pick for Best TV Dads:
Charles Ingals  – Michael Landon (Little House on the Prairie)
Mr. Cunningham – Tom Bosley (Happy Days)
Mike Brady – Robert Reed (The Brady Bunch)
Andy Taylor – Andy Griffith (The Andy Griffith Show)
Ward Cleaver – Hugh Beaumont (Leave it to Beaver)
James Anderson – Robert Young (Father Knows Best)
James Evans – John Amos (Good Times)
Tim Taylor – Tim Alan (Home Improvements)
Cliff Huxtable – Bill Cosby (The Cosby Show)
Steve Douglas – Fred McMurray (My Three Sons)
Steven Keaton – Michael Gross (Family Ties)
Got some to add?