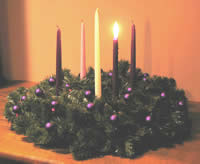 We started having family Advent nights a dozen years ago. We got the idea from my sister-in-law. We had the fun stuff down pretty pat, but we had been wanting to do something that focused our family on Jesus' birth. The advent night does just that, plus the kids love them.
They love the family time and the quiet darkness as we talk about Jesus and read a story together. In fact, we couldn't quit if we wanted to, they wouldn't let us.
*For our non-liturgical audience, let me give you a quick synopsis of what an advent night is. Advent is the Latin word for "coming". So, during advent, we celebrate or anticipate his "coming." You with me?
Traditionally there is a wreath with five candles, four on the outside and one in the middle . A purist will tell you each candle has a specific color and name. At our house we're lucky to find five candles that aren't broken, so we use almost any color (although my wife made me put away the four orange candles tonight – too pumpkiny).
The Candles
About the only part that we really stick to is the last candle which we light on Christmas eve. It is the Christ candle and is pure white. The other candles we kind of wing, but here is the order we've kind of stuck to:
Week 1 – Prophecy candle (Isaiah 9:1-7)
Week 2 – Bethlehem candle (Luke 1:1-56)
Week 3 – Angel candle (Micah 5:2 & Luke 2:2-5)
Week 4 – Shepherd candle ( Luke 2:8-20)
Christmas Eve – Christ candle (John 1:1-18)
A different candle is lit each week along with the previous ones. The anticipation builds from week to week. Advent is usually on Sunday, but Sundays are busy nights for us so we pick a night during the week. This year it is Tuesday night.
The Craft
First thing we do is have a family craft. I know what you're thinking, "I'm not the craft kind of guy." That's OK, see if your wife will plan a few simple crafts for the month – emphasis on simple, but you have to participate. It won't kill you.
We pick a really easy one for the first night just to get our feet wet (see craft ideas). We saw the idea in a magazine for making peppermint candy picture frames. All you do is glue a kids photo on a piece of white cardboard leaving a 1 inch border all around the picture. Next you glue cheap peppermint candies around the border and fasten a ribbon on back. Wa-la, a grandparent's gift suitable for hanging.
Amazingly, it went smoothly. Using glue is potentially disastrous, but even our three year old managed to get most of the glue where it was supposed to go. Next week my wife wants to do gingerbread houses. Talk about scary.
After we finish with the craft, we go out by the Christmas tree, and we light the candle, read a few verses about the candle, and then talk about it. The temptation is to get too deep. Don't. Keep it simple and short. Trust me on this one.
The Story
Next I read them a good Christmas book. I try to read ones that last about twenty minutes. Long enough for the older kids, but not too long where we have to strap the younger ones to a chair.
The Snack
Usually, while I'm reading my wife sneaks into the kitchen to get the snacks ready. The snack can be anything as long as it's special. Oh, yeah and it has to include sparkling grape juice. Our kids look forward to the drink all year. This year the snack flopped, fortunately Debbie had some back-up mint cookies for just an emergency. The kids thought it was great.
After that, we pray, and we're done.
Dads, let me stress again the value of a family advent night. Besides being a wonderful teaching time, it is also incredible family time, and I guarantee that your kids will love them as much as our kids do.
In fact you'll love them so much that you might even try to incorporate a family devotional night during the regular year. Wouldn't that be something?
OK, now sit down with your wife and plan out your first advent night. Good luck.