Familyman Spotlight – Rick Andreassen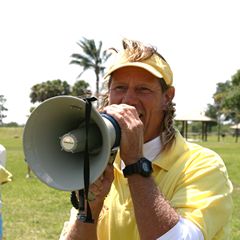 Name: Coach Rick Andreassen
Age: 51
Home base: Fort Lauderdale, Florida
Tell me about the Saints: Christian Homeschool Athletic Association of Fla, "SAINTS" is a professional P.E. Program for Homeschool students
How'd you start the Saints: I was a Physical Ed. Teacher for 11 years at a Christian School in Florida and on Aug. 27, 1997 God spoke the words "Homeschool P.E.". I stepped out in faith with myself and 2 volunteers and we had 18 children that 1st year. Now, 13 years later, we have 15 locations throughout FL. Reaching nearly 3,000 Homeschool Kids per week.
3 years ago we expanded to Austin, Texas (CHAA of Texas) and Las Vegas, Nevada (CHAA of Nevada).
Our prayer and goal is to create a safe-Godly environment where kids can be built up physically, mentally, spiritually and emotionally through sports. God has duplicated this vision throughout 3 states (He's sooo good).
Who is it available to? We facilitate activities for ages 5-18 years of age. We operate Monday through Friday from 9-4pm exclusively for Homeschool students. (We operate during school hours) We have an incredible team of coaches, all whom are "called by God" to work in this ministry. All coaches are screened and background checked and trained in First aid and CPR.
How do folks sign-up? Students sign up by coming to the facility with their parents and getting a free "trial" visit and hopefully the kids enjoy the activities, but more importantly, that the parents gain a sense of trust in the "heart" of the ministry and our prayer and goal is that the "Heart" of Saints would be the "Heartbeat of Jesus Himself"…our motto for Saints is "Where Jesus is Lord and Every Child is a Winner."
Are you open to expanding in other areas of the country? Absolutely, if God opens doors to expand in other areas, we want to be faithful and obedient to walk through these doors.
How would a dad contact you if he was interested in hosting/ being apart of the Saints where he lives? Contact Info: www.chaasaints.com or email me, at CoachRickAndreassen@yahoo.com , 954-494-6812 Or Executive Director, Coach Kelly Nevius, email CoachKellySaints@yahoo.com , 954-646-5903 Saints — CHAA is a 501 (c) 3 and for 13 years we have maintained a commitment that "no child is ever turned away" due to finances.
As you spend your days with children…how would you encourage dads…what do you see that we could be doing better? I would encourage Homeschool Dad to "Keep up the great work" and "to not become weary in well doing…for at the proper time they will reap the rewards." (I am privileged to work with and see in action the lives of thousands of Homeschool Dads each week, throughout the year!) I think Homeschool Dads are Awesome! I think Homeshool Dads are true men of God, committed to their Lord, committed to their wives, and committed to their children. Dads, keep hugging your kids the way you do, keep praying for them (with them present), keep speaking the three most important things your kids need to hear from their Dads: "I love you," "I'm proud of you", and "I believe in you!"
Helpful Hints:
In sports: always remember to "Reward Effort" (your kids really want to please you and make you proud!)
Whether they kick the ball out of bounds or in the goal, "You're proud of them," #1 because they're your kid and #2 because they've done their best!
(The Bible reminds us: "Fathers do not embitter your children for they will become discouraged) Use caution, Dads, I think this has the potential to happen most often on the athletic field.
Always let them know your love is "unconditional."
And most of all Dads, I would remind you to "Enjoy your kids…they grow fast". Enjoy every stage of their lives because how quickly they will grow (many fathers would say, "it's in the blink of an eye, and they are grown")
Again Dads, "Keep up the great work…well done good and faithful servant". I pray you hear your Heavenly Father say to you, "This is my beloved son in whom I am well pleased."
Very Important:
While encouraging your wife and children, I believe it's also important to encourage other dads…Todd Wilson has set a great example for us about encouraging one another with his simple yet profound catch phrase, "Keep up the great work…because…You Da Dad"!!!
An Interesting Footnote:
Coach Rick was elected to carry the "Olympic Torch" in the 2002 Salt Lake City Olympics to represent all the Homeschool Families throughout the United States (and the world)!!!