OK, everyone knows that Route 66 carries the official designation The Mother Road. But what about The Father Road? I was thinking about the lack of one as I was driving down Interstate – 65/24/75 and noticed all the "See Rock City" bilboards painted on old barns.
Driving south nastalgia swelled in my heart. After all Rock City is practically synonimous with vacation, un-airconditioned car travel, and childhood memories.
And while the Mother Road travels from Chicago to LA, has a song, and stared in the movie CARS, The Father Road passes through the heartland of America and leads to the vacation destination of the world — Orlando, FL home of the Magic Kingdom, Amusment parks, animal parks, water slides, and palm trees underlit with blue and red lights. Yes, it's tacky…but it's oh so good.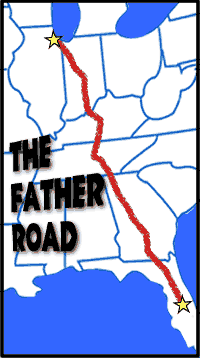 That's when I mentally designated 65/24/75 as THE FATHER ROAD (I picture it wearing burmuda shorts and dark socks with sandals).
To start the ball rolling, here is my short list of attractions to see along the road, but I was hoping you could help fill in some of the gaps. So here are my favorites, and I hope you'll add yours.
Interstate-65
Chicago
INdianapolis
Wolrd's largest children's Museum
500 Speedway
Louisville, KY
Luisville Slugger Museum
Hodgensville,KY
Birthplace of Abraham Lincoln
Bowlinggreen, KY
Mammoth Cave National Park
Corvette Assembly Plant
Interstate 24
Nashville, TN
Opryland Hotel
Interetsate 75
Chattanoogo, TN
Chatanooga Choo-choo
Rock City
Ruby Falls
Lookout Mountain
Chicamonga Battlefield
Atlanta
Stone Mountain
Orlando
EVERYTHING!!!
Fellow Familyman George Savatsky along with his wife Michele and their children recently wrote a book Kids Love I-75. It helps you explore Hundreds of Family Attractions less than 10 miles off I-75 from Michigan to Florida.