I received the following email in response to last week's Familyman Weekly accusing me (and others like me) of feminizing men.
To the Writer (Todd),
Though there are sometimes that this is relevant, most of the time it is not, and is a cause for undue pressure on the dads. I also see some organizations, though with good intentions, trying to make men have 'women's intuitions' and 'womanly communication skills', and thus applying a standard that was never intended by God. At the same time they're telling children they have been neglected if their Daddy wasn't sensitive enough to them because he "didn't care." This gives them a crutch allowing them to 'blame' someone else and not taking full responsibility for their sin and shortcomings as individuals. The blame game makes for weak Christians and weak people.
Not everyone can listen all the time and our children should be taught that there are appropriate times for all things, and if it is not the proper time, then maybe they should make the request at a different time. It doesn't mean that Daddy 'doesn't care'.
Also, 'coded' answers does not translate into 'I don't care'; it means just what was said, regardless of translation.
Let me challenge you: how about taking the time to see how many Men/Daddy 'weakenings' or 'bashings' your family hears, from those who are supposed to be on Gods side, you see in the next 3 days.
We need to teach our children what true biblical masculinity is and not what some counselor/psychologist has said mixed with some scripture verses.
Get rid of the fluff and show some true grit, that the real men of the Bible have. This is a greater challenge because for men to be men, all relationships have to change.
C. H.
Here is my Response –
Dear C. H.,
I sure appreciate your letter and your desire to be what God wants you to be. That's what I want of myself and for every dad I meet. Let me say that you are not alone in your thinking. Occasionally I get letters from other men with similar thoughts, and in fact, many books and speakers would voice a manly "Amen' to all that you have said.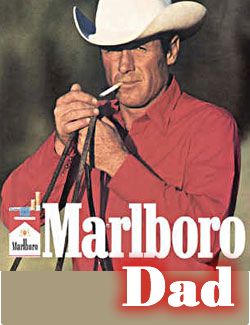 But they're wrong. The views they share and write about are not based on Biblical truths but on some kind of macho Hollywood Marlboro Dad.
Yes, we need warrior-men who lead their families, love their children, and fight for their wives. In fact that is our prime directive. But, we do not achieve that by watching Monday Night Football, shooting guns, using power tools, refusing to vacuum, and communicating in grunts.
We've been fed a lie that says: For a man to be a man, he needs to do "manly" things and act according to his "natural" tendencies. Really, what is being said is that we have to do what WE want to do to be truly masculine. That line of thought is based on selfishness, not selflessness. It is a worldly philosophy not a Biblical one.
If you were to follow that line of logic then one could easily say, "Since men are drawn to sensual images, then it can't be wrong to 'look' at them because that's how God created man to be. God certainly wouldn't create someone with a particular bent and then expect him to deny it or even call it sin. In fact, maybe it would be better to nurture the desire."
Now I know that I just pushed my point a little far, but the same line of thinking is put forth in the idea that men get their self worth from their job. That may be true, but that doesn't make it right to be a work-a-holic, nor does it mean that we should live in such a way as to gratify that desire.
C.H., you pointed out that we should 'teach our children what true biblical masculinity is and not what some counselor/psychologist mixed with some scripture verses has said.' I assume you're talking about me. I am not a psychologist, and though I was a pastor for 10 years, I wasn't very adept at counseling.
You also implied that since I didn't QUOTE the Bible that I must not USE the Bible. That's simply not accurate, and you did not offer Scripture to back up your opinion.
Actually, I'd be very interested to see what scripture you base your biblical masculinity on. You seem to imply that it's the sword swinging, lumberjack kind of masculinity. That is a worldly standard, not a Biblical one.
The Bible is counter cultural…you could almost say that if the world goes one way…God would have us go the other.
For example: The world encourages husbands to go for the gusto, don't be pushed around, take time for yourself, leave the women's work to the women…or at the very least have your children do it. In contrast, the Bible says, "Pray for those who persecute you, live with your wife in an understanding way, do not provoke your children to anger, give to those who ask, turn the other cheek, serve one another, to be great…serve…and a bunch of other stuff that is easier to say than to do.
Can a man turn the other cheek, communicate with his wife, offer to do the dishes, and still be a man? Yes! In fact, that's the kind of man God wants us to be. Yes, some have feminized men, BUT working to be a good listener, servant, and communicator, isn't feminine, it's "living with your wife in an understanding way." It's manly, manliness!!
You wrote that 'telling children they have been neglected if there Daddy wasn't sensitive enough to them, and he "didn't care"…gives them a crutch to 'blame' someone else so they do not have to take full responsibility for their sin or shortcomings as individuals. The blame-game makes for weak Christians, weak people'.
C.H. my audience has never been children. I don't point out their father's shortcomings. I talk to dads…and to the wives who listen in illegally. I remind them, as I do myself, that if we are not sensitive to our children's needs, care about what they care about, and love them as they need to be loved, then we will provoke them to anger, and NO crutch in the future will be of aid to them. The undeniable truth is that we fathers leave indelible marks on our children for both good and bad (just look at some of the father/sons in the Bible).
That's an awesome truth, one that REAL MEN embrace but other men mistakenly blow off as "unmanly."
You wrote that children should learn (my paraphrase) that what a dad says is what he means. I wish that were the case…but they know better. Your wife knows better. And you know better. In fact, you read into what I wrote. You assumed I was feminizing dads because I was a wimpy kind of dad. Hey, I even read into your note and made assumptions about you by what you said. It's not good…but we do it.
I agree that children must learn that there are times that they cannot interrupt, etc., however, I took that son along with me in order to spend quality time with him, and then I showed him that I'd rather be consumed with my own thoughts than listen to his. I believe that teaches him that Dad doesn't care about his thoughts. Even a 6-year-old can translate that.
Let me set the record straight that I'm no wimp. I own all kinds of power tools, spit, played football in high school, and go days without shaving, BUT that isn't what makes me a manly-dad. I'm a manly-dad because I deny myself and serve others. I set aside my "natural" tendencies and sweep the kitchen, change diapers, give baths, talk with my wife about fabric colors, and try to be interested when my children describe their latest LEGO creation.
Now I fail a good chunk of the time (just did about 10 minutes ago), but I never give up. I apologize (another "unnatural" thing to do) and try again. I know many men who would say, "Yeah, but what about my wife and the kids…don't they have to try?"
Yes, I wish my kids would be easier and that my wife wouldn't get upset over little things…but instead of blaming them for their behavior, I say, "BRING IT ON! I can handle it because I'm 'da Dad!"
That's what a real man is…a biblical, selfless, go-ahead-and-punch-me-in-the-face-cuz-I-can-take-it kind of man. That's what God has asked of us; that's what I want of myself, and that's what I encourage other dads to be.
And with all that said, I still fail miserably.
So, C.H., thanks again for your letter, and I appreciate you letting a fellow dad rant. I'll tell you what, you keep searching the Scriptures and so will I.
Defend your family, rescue your damsel, and don't forget to take out the trash.
You 'da dad,
Todd
PS — I've written about our great responsibility and superhero likequalities in my book Father Power. You can order a copy for yourself and a fellow dad at the Dad Store.
.