The Great RV Makeover – Week 3
Well, we continue to make progress (whatever that means) on the new FM3. Merle (the Amish floor covering guy) came over and said it looks doable. He plans to lay the flooring on Oct. 12. Now all I have to do is have everything ready for him when he gets here.
Got the bunk beds roughed in and now all I have to do is make them "shine." They aren't exactly spacious, but I think they'll work.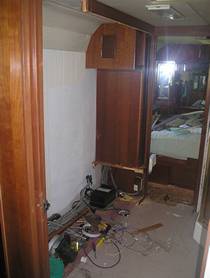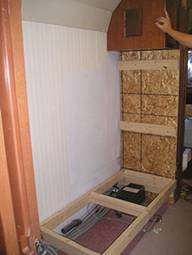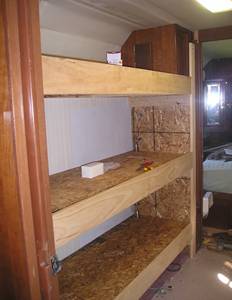 I was having a little trouble starting the rig, but after replacing one battery and a couple of big thick cables, it started right up. I think I have another battery to replace as well…which leads me to my next comment. I know nothing about diesel motors. If you are a diesel expert and wouldn't mind being my go-to-guy for diesel questions, would you please contact me? I need a little help. I feel like I'm dealing with a new beast and don't know much about it.
This weekend, besides having fun and taking our trash to the big trash day, I plan to work on getting the floor ready for Merle.
Until next time!