Welcome!
Glad you stopped by. It's my desire that this site would serve as your one stop shop for everything-dad. Along with encouraging products, you'll find all kinds of real life stories, examples, and practical advice to becoming the dad your family needs. So enjoy your visit and keep up the good work. See More.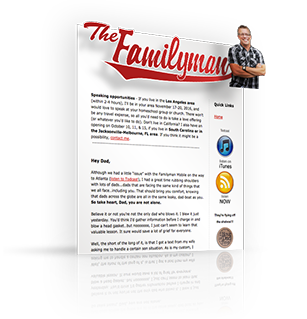 The Familyman Weekly
Do you ever wish a guy would come to your house every once in a while, slug you in the arm, and tell you to straighten up, be a good dad, and be loving to your wife? Well, now your wildest dreams have come true, because I'll come to your home or office each week and do just that. Now, don't be expecting a theological treatise on husbanding, because the Familyman Weekly isn't that. Think of it more as one dad encouraging another over the backyard fence.
The Familyman Show
"I listen to many podcasts during the work day, and I've yet to write a review until now. Todd Wilson encourages dads with wit and a message most can relate to! Keep up the good work!"
"Plain speaking. Biblical values. Straight talk to/for fathers. Todd shares his thoroughly universal perspective on what it means to be a real father in the real world. You can't help but be moved to be a better father and husband."